Fleet 0-1 Chester
Fleet are still looking for their first points of 2018 after a disappointing reverse at home to Chester, the winning goal  coming against the run of play in the first-half – but for all the possession and control enjoyed by the home side, they were unable to give Sam Hornby in the Blues goal too much to think about after the break. And to compound the defeat, Fleet will now lose Bradley Bubb to a three-match suspension after the striker received a red card for a challenge late in the game on Andy Halls.
Fleet made one change, bringing in Myles Weston for Dean Rance, while Jack Payne was named on the bench after his long injury lay-off. Michael Jordan provided the goalkeeper cover after news that Jonathan Miles was on loan to Welling United for a month.
It was an attacking Fleet line-up and it seemed to be paying off as the home side dominated possession from the first whistle with Chester barely able to get over the halfway line for any length of time. Luke Coulson and Myles Weston got early shots on target though neither carried much weight and Hornby was down to meet both without much problem. Six minutes in, Jack Powell's free-kick from the left was flicked on by Danny Kedwell in the box and though Kingsley James made something of a hash of clearing it in the six-yard box, the ball sat up for Hornby to gather.
Weston, with Powell working hard behind him, continually threatened the Chester full-backs and on 14 minutes drew Halls into a foul as he hared down the right flank, the defender gaining a yellow card for his troubles. Kedwell then saw another effort blocked as Sean Shields worked an opening down the other wing and it seemed just a matter of time until Fleet opened Chester up.
Unfortunately for the home side, the opposite was true. In a rare break, Chester found James Akintunde in space in the middle of the pitch and he held the ball up before finding Harry White out on the left. With Fleet stretched and Nathan Ashmore in two minds whether to attack the ball or stay rooted inside his box, it allowed White to pick his spot and fire the ball inside the post and the gap created by Ashmore's positioning and the Blues were in front.
Shields and Powell teed up a couple of chances in response and on 32 minutes the home side conjured up the best passing move of the half that ended with a neat ball through to Chris Bush in the box that he slipped just wide. Chester couldn't gain a respite and it wasn't helped by Hornby's distribution from goal kicks which more often than not flew out of play on the Main Stand side, gifting possession back to the Fleet. Shields had another effort just before half-time that Kedwell almost turned in before Hornby diverted with a low save and then Weston flew down the right once more, playing in Kedwell whose first-time shot rose past the upright.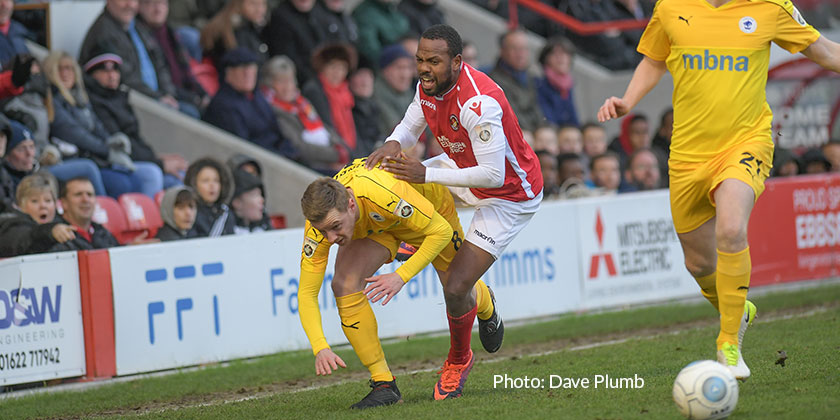 Despite the half-time score, there was every reason to hope Fleet's dominance would eventually wear Chester down if the red shirts could just keep their foot on the gas. Bubb came on for Magri at the restart, with Fleet going to three at the back, and although possession was once more in the home side's favour, it was less intense than during the first 45 minutes and it gave Chester some breathing space.
Indeed the Blues seemed a touch more adventurous and White fired over before full-back Reece Hall-Johnson had to be stopped at the near post as he broke through from wide. Fleet's best effort of the first 15 minutes of the half was a long-distance Powell free-kick that Kedwell turned into the side netting, though Chester could have been two in front moments later when Ashmore had to make a smart stop from White's firm strike inside the box and Fleet then gave the ball away to Akintunde whose follow-up was fortunately blocked.
Payne's introduction on 64 minutes gave Fleet a little more resolve in midfield and things picked up as he and Shields strove to wear down the opposition. Shields had a shot on target on 74 minutes but Hornby saved, Powell's free-kick from 30 yards then curled away from goal before Kedwell saw a goalbound header from a corner clawed away by the goalkeeper. But nothing was falling for the Fleet and with the pressure on Hornby's goal less intense as the match wore on, Chester were able to hold on, helped when Bubb got his marching orders for his foul on Halls 20 yards out.
EUFC: Ashmore, Magri (Bubb 46), Bush, Clark, Winfield, Drury, Powell, Weston, Coulson (Payne 64), Shields, Kedwell. Subs not used: McCoy, Rance, Jordan.
CFC: Hornby, Hall-Johnson, Gough, Halls, Astles, James, Turnbull, Dawson, Shaw, White, Akintunde (Hannah 61). Subs not used: Lynch, Bell, Jones, Udoh.
Attendance: 1,389